Exam Monitoring
The exam monitoring portion of Active-Class, known as Active-Exam, is a cost-effective yet competitive, quality service designed seamlessly compatible with Active-Class's eLearning LMS. Devised using brand new techniques, this service offers institutions the opportunity to increase the credibility of their online exams through proctoring with minimal human intervention, while maintaining a fair and less invasive process. The exam monitoring service is available with the licensing model only, when this service is purchased by the institution.
  for our bespoke licensing service.
State of the Art Technology
Utilising our expertise in machine vision, artificial intelligence and behavioural science, we have built a non-invasive yet robust and reliable exam monitoring system that is easy to administer and oversee.
We are in the process of submitting for patents for three components of the platform.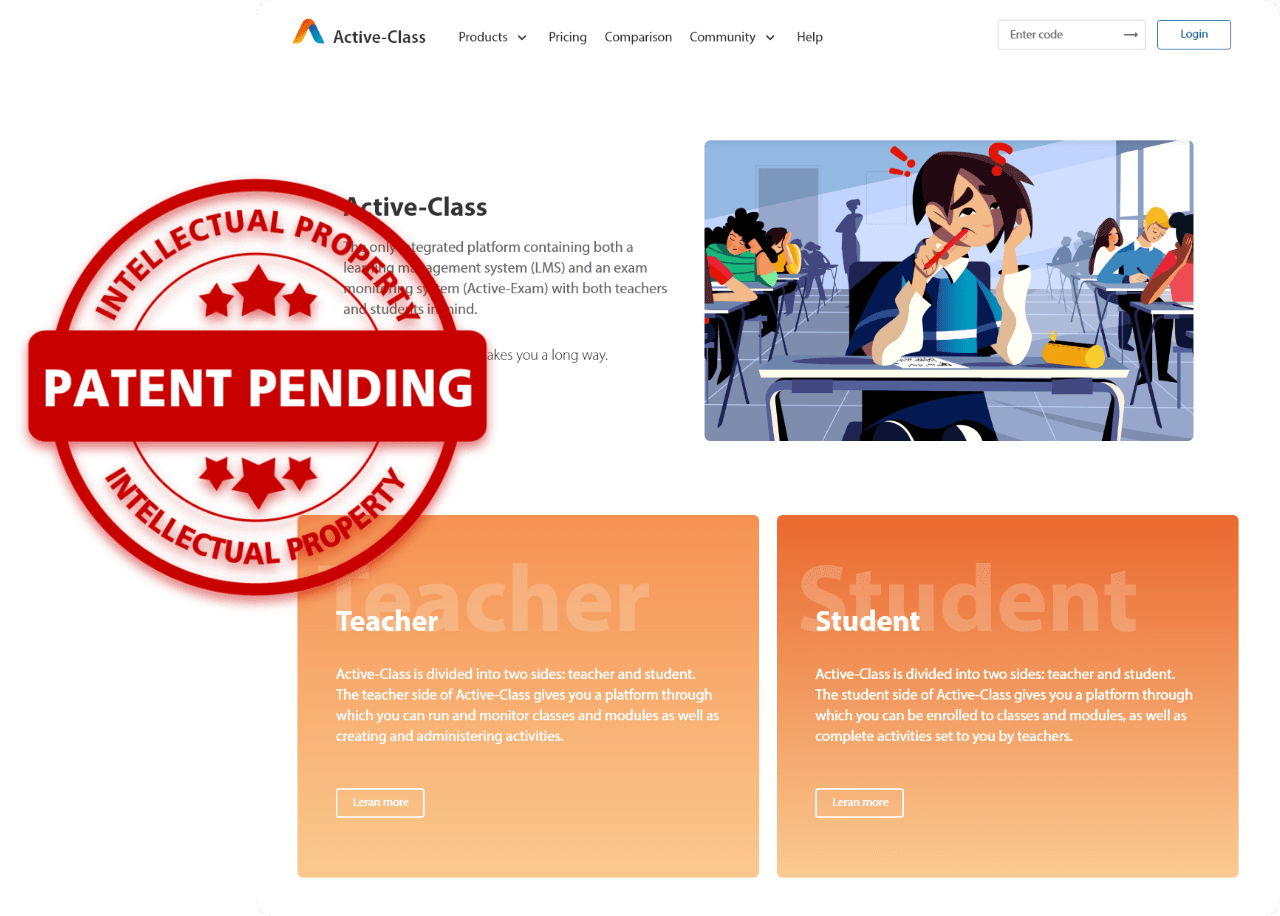 Human Validation
To account for drift in the AI, a section of the data will be reviewed manually.
This ensures that the highest quality of service is maintained.
Independent of Active-Class
An Active-Class subscription is not required in order to use our exam monitoring service.
No matter what online platform you use to deliver online exams, we can accommodate you.
With Teachers in Mind
A report is provided with evidence collection are provided – making it very easy and quick to review students' performances.
Human behaviour is complex. We do our best to reduce the false alarm rate, the final decision, however, remains in your hands.
With students in mind
We offer at least two extra monitored sessions for free to each student
These sessions can be their regular assignment or assessment, or we design subject specific general knowledge tests.
A system that strives to be fairer and less invasive – thus providing a better experience for your assessment sessions.
Data Storage
Data protection is of the utmost importance. We store data in cloud storage with the highest level of security.
If wanted, we can store data in your data centre whether you use cloud or onsite physical storage.
Data Protection
We collect only the minimum amount of information we need to operate safely and effectively.
We limit access to data to a handful of individuals through the strictest of procedures.
We share data on a need-to-know basis. This means access is given to only those parts of the recordings that require reviewing and nothing more – maximising the security and privacy of information and data.